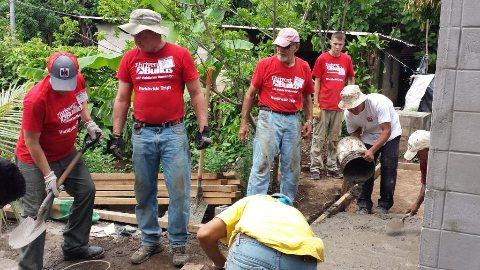 Hi,
I'm hoping I don't need an introduction, so I'll go right to the business at hand.
I'm going back to a Thrivent build in El Salvador this summer, and would like to
fundraise in my congregation (I'm not on social media!). I will have a pouch under
last year's pictures on the narthex bulletin board for anyone to use (make all
checks payable to Zion Lutheran, and specify for Jeff Miller's Thrivent trip on the
remarks line).
Why go? I think there's a more important question, but I'll try and answer that
one first. Read the article on repatriated, unaccompanied minors in March's
LUTHERAN, p.36-37. I have 5 grandsons, the oldest is 12, and I'm going for him.
To give thanks he doesn't have to travel the length of Mexico on top of a railroad
car to find a life...because he doesn't have to run the gauntlet of the drug cartel's
'coyotes' that charge a life's savings to cross a river in his pursuit of
happiness...and that he didn't face a 50/50 chance of violence, sexual assault, or
worse for liberty, only to be sent back by a country whose front door bears the
words:
"Give me your tired, your poor, your huddled masses yearning to breathe
free...Send these, the homeless, tempest-tossed to me..."
6 out of 10 people in El Salvador live in below poverty level housing! All I can do is
to help one family at a time have a safe place to live in their country for their
children, while the never ending partisan debate continues in our nation's capital
on immigration reform. But perhaps the question is not why I'm going...maybe it
should be "why aren't you?" Call me anytime for more information.
"Whom shall I send? I'm here, Lord, send me!"
Yours in faith,
Jeff Miller